---
You have all seen these ads right this is what we get in Australia, I am sure they use similar ads with other well-known celebrities in other parts of the world. Unfortunately, people fall for these ads. They don't want to miss out on making some quick, easy money. Bitcoin Scam Alert Rule #1 – If it sounds too good to be true, it most probably is.
Crypto Scam Alert
"I didn't know it was a scam. I've lost nearly $82,000, and it feels like my heart has been ripped out of my chest," he said.
That is a statement from an 80-year-old pensioner that doesn't live to far away from me, he put his trust in Dick Smith (well-known, trusted famous Australian) and got fleeced of all his money.
Most of these types of scams use celebrity endorsement as a way to gain peoples trust. They think if they are doing it, it must be good and legit right………… WRONG! Experts are saying that this type of scam has increased by around 30% in recent months.
The scammers also use fake news sites and well-known TV news presenters to try to make it sound like an authentic offer to gain their victims' trust. In Australia, they use Waleed Aly, Dick Smith, Mike Baird, Celeste Barber, Andrew 'Twiggy' Forrest, David 'Kochie' Koch, and Michael Rowland Karl Stefanovic, Virginia Trioli and I am sure Mel Gibson would make a list to.
Using celebrities like this is a key indicator that you are dealing with a scam. Unfortunately, there have been a lot when it comes to cryptocurrency. None of the good legitimate traders use celebrities for endorsement of their products if you want to check out a review and see what a legitimate product looks like have a look at my last post >>> TraderCobb Review.
What is a crypto trading robot?
A 'bot' or trading bot is a software program that automatically trades crypto coins on the user's behalf.
A lot of these scams claim to use a bot. Invest $250 and make $5647 on the first day, you have seen the fake claims right. These trading bots often request permission to access your savings account to carry out the trade. I don't trade using a trading bot, but trading bots are real and are legitimate; however, the way these scammers use them or claim to use them is NOT real. They will send you fake data that shows you making profits. Meanwhile, they are emptying your accounts, and when you ask for profits you will never hear from them or if you do it is with fake promises that the money is on its way, guess what it is BULLSHIT!
I should say that not all trading robots are scams, there are good ones like Cryptohopper around if you want to trade that way. I will do a future post on Trading bots, although I personally do not use them some people claim to do well with them.

One key message to take away from these scams is not to trust anyone else or anything with your money. Trust me when I say, Your money should be in your own best interest, NOT someone else. You must learn to look after your money better than someone else will for you.
Here is another example for you of a real email I just got. Ironic, so look out for email scams as well, I can't read it, but by the look of the image, I would say it is some crypto scam.
Ваш ответ:
How To Start Make $950 daily Online?
Адрес электронной почты *
use your secure link
Ruth
https://jihr.page.link/JdM123?
So What is Real
There are probably some well-managed funds out there, but you need to learn to trade yourself as far as I am concerned. That way, you are 100% responsible for your money, you should not rely on someone else to create wealth for you. If you rely on someone else you can be assured they are doing it for their own wealth they have Not got your best interest in mind, they are making money from you.
There might be a few exceptions out there and if you find one let me know. Basically, if you are giving your money to someone else to look after like putting it into an online account, they will trade for you or use a bot to trade be very wary it is most likely a scam.
Like I said people do use trading bots like Cryptohopper.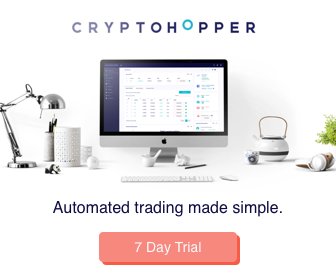 When you use a bot like this, you manually link your account yourself you are not relying on someone else to do it for you. You already have an account at an exchange that you set up,. You set the parameters for the trading bot yourself, so basically you are just automating a trading system, so you don't have to manually trade yourself, Cryptohopper will do that for you.
Learning to trade crypto successfully does not have to be complicated or hard you have to be disciplined and do the right things in the right order and have the right knowledge, I can help you learn to do this, the real system I use is available here if you want to have a look >>>>>Learn a REAL Trading System.
---
Conclusion
People, please be careful there are a lot of scams out there when it comes to making money online, the crypto space does have a bad name for it, the crypto industry as a whole is cleaning up its act, there is a lot more regulation in the industry now, and as it becomes more popular, that will only improve over time and as crypto becomes more mainstream.
So you don't need to be scared of crypto or be scared of being scammed because you know how to spot a scam now right. At the end of the day no matter how you want to trade crypto or create wealth for that matter I suggest you find a good mentor and learn to trade yourself, that way you are 100% responsible for your own wealth creation. It can be done keep reading the posts on this site where I discuss all things relating to Wealth with Crypto and take control of your future and remember if you have any suggestions write a comment on this post or you can reach me at dave@2dsirecrypto.com.
Remember be the best you can be
Crypto Dave
---
❗ DISCLAIMER: I am not a financial advisor. This is not financial advice. The content and material I provide on 2dsirecrypto.com is my opinion only and general in nature. Always do your own research before investing any money. You should always understand the risks involved in trading and investing and seek advice from licensed professionals before undertaking any investments of your own